Lantronix PremierWave® XC LINUX-BASED GPRS Modem + Devices Server available from Elecom Electronics supply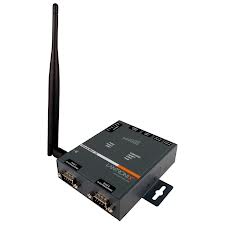 PremierWave® XC provides bullet-proof security by offering a variety of robust data encryption and authentication options. Featuring the industry-proven Lantronix device server application suite with AES, SSH and SSL, PremierWave XC provides enterprise-level security allowing safe and secure remote access and management from practically anywhere.
With GSM/GPRS and Ethernet connectivity with failover, PremierWave XC provides flexibility and redundancy. PremierWave XC can be configured remotely over a network using Telnet, SSH, or web browser (HTTP and HTTPS). With no special software required, setup is a breeze with the included Windows-based DeviceInstaller™. Additionally, to allow existing serial port applications to work with no code modifications, Lantronix' proprietary Secure Com Port Redirector™ virtualization software is also included.
Feature
Dual connectivity offers flexibility and redundancy.

Failover support GPRS + Ethernet

Provide network connectivity to virtually any device with a serial port

2 ports support RS232/RS422/RS485 up to 921K and customised baud rate

Simple device set-up, configuration and monitoring with powerful, industry-standard management tools (Web, CLI, XML)

2 Digital I/O (Input support 0-30V) and 1 Relay support 1A,24V

2 USB port supported for thumb drive storage.

Supported DDNS, SNMP, EMAIL, HTTP, HTTPS
The PremierWave® XC is available from Elecom Electronics Supply, the ANZ local wireless and communications supplier.