Multitech MTR-H6 and MTR-H5 rcell 100 single port 3G router available from Elecom Electronics supply
The MultiConnect® rCell 100 Series Intelligent Wireless Router is a comprehensive line of routers for M2M (machine to machine) communications. It combined with HSPA/ WiFi/ Ethernet/ Bluetooth/ Serial/ GPS as well as routing functions together into a compact magic box.
The MultiConnect rCell 100 offers a stable lifecycle, an important consideration for M2M solutions, it offered a single point routing, VPN with Ipsec, and Serial to Ethernet/WiFi/HSPA+ solutions. Customers can use it as a serial modem or router to fulfill the different applications. MTR-H6 and MTR-H5 is just cost as a single solution HSPA+ modem, it is cost effective solutions for customer to implement their products in the dynamics environment.
Free access to Multi-Tech® Device Manager which is a cloud based device management solution that simplifies and scales the management of the networking devices. It allows users to remotely monitor, upgrade and configure an entire device population from a single location. Whether you have one or more than 10,000 devices to manage, Multi-Tech Device Manager simplifies access to your devices, resulting in lower total cost of ownership and increased operational efficiency.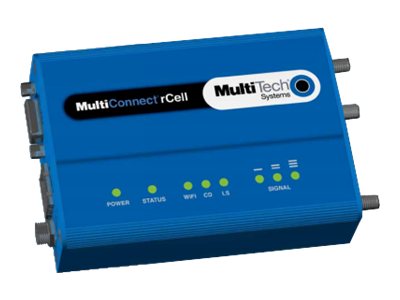 Key Features
MTR-H6 3G freq: 850/900/2100 MHz
MTR-H5 3G freq: 800/850/900 AWS 1700/1900/2100MHz
2G freq: 850/900/1800/1900 MHz
MTR-H6 HSPA solutions: 7.2Mbps-DL; 5.76Mbps – UL
MTR-H5 HSPA+ solutions: 21Mbps-DL; 5.76Mbps – UL
RS232 interface with MODBUS supported.
Supports IPSec VPN tunnels for secure LAN-to-LAN access
3DES and AES encryption
IP Passthrough
Support HTTP/SNTP/DDNS/TCP/UDP/Telnet/PPP
Support API for customer re-developed the unit
Built-in dynamic DNS client
Built-in Web interface (customizable to your logo)
Free Cloud based remote management platform
Models with Wi-Fi®/Bluetooth® connectivity
Models with GPS connectivity
Fully certified with Telstra and AT&T
Two-year warranty
The MultiConnect® rCell 100, MTR-H6 and MTR-H5 single port 3G routers are available from Elecom Electronics Supply, the ANZ local wireless and communications supplier.